Velvety's Guide To Dressing A Triangle Or Spoon Body Shape
Every person has a body shape that influences the way they look and how they can dress to best flatter their body shape. Understanding that a body shape can be used as a guideline for clothing choices is a revolutionary fashion statement, not a matter of comparison and mere categorising.
Remember that every body shape is different and beautiful, and no one shape is better than another. This blog will teach you everything you need to know about a spoon shaped body and how to find clothing that will give you both comfort and style.
What makes a body shape a spoon shape?
How to identify a spoon body shape
People with a spoon shape have a curvy figure, with fuller hips and relatively narrow shoulders. Since the shoulders tend to be narrower than the hips, this creates the notorious triangular figure that characterises this body type.
Unlike the pronounced curves associated with an hourglass figure, spoons have a more subtle figure shape. When it comes to spoon body shape measurements, your hips are at least 5% wider than the rest of your body.
Top styling tips for a spoon body shape 
When styling a spoon body type, the main goal is to balance the top and bottom parts of the figure by adding volume to the top half and/or creating the illusion of a fuller top half.
When picking a spoon body shape outfit, here are three things you should keep in mind:
Draw attention to your shoulders and arms by wearing clothes that highlight them. For example, you could wear a sleeveless shirt or dress, or a shirt with capped sleeves. 
Highlight your neckline by wearing a shirt or dress with a neckline that is lower or revealing. You could also wear your hair up in a way that shows off your neck. This will give the illusion of broader shoulders.
When choosing an outfit, pick dark or neutral-coloured bottoms and a bright, bold top. This will help to naturally draw the eye upward.
What should you wear to enhance your spoon-like figure
Now that you understand the characteristics of the spoon body shape and have a general idea of what exalts one, it's time to put all of that knowledge to good use.
Tops
To compliment a spoon body shape, choose tops that focus on the neckline. This will draw attention to your shoulders, arms, and torso.
These are some great top options: 
Strapless blouses or off-the-shoulder blouses
Blouses or shirts with shoulder decorations (such as frills)
A boat-neck top that's wide and round will highlight your collarbone
Tops with a loose draping collar look great across your shoulders
A blazer with shoulder pads
Bell sleeves help enhance your chest 
Bottoms
For the bottoms, choose simple, unadorned trousers or pants with little to none embellishments, pockets, or other details. Try to keep the colours as monotone and neutral as possible.
The best trousers are either straight cut or fitted
Define your waist with medium or high-rise bottoms
Avoid low-rise jeans or pants
We don't recommend skinny jeans or leggings
Dresses & Skirts
There are a few things to keep in mind when shopping for dresses for a spoon body type.
A-line dresses are a great choice as they will accentuate your waist and hide your hips
Accentuate your waistline with a belt or other type of closure to help create the illusion of an hourglass-like figure
Look for dresses that are fitted through the bust and hips, but have a flared skirt
A plunging neckline or an open back can look very beautiful on a spoon body type
When it comes to skirts, you can rock miniskirts and anything that will highlight your waistline
Celebrities with a spoon body shape
The following women are spectacular examples of how you can look absolutely gorgeous, no matter your body type. Don't be afraid to accentuate and use your body type knowledge to your advantage.
Beyonce's stylist is not afraid to show off her neck and chest to enhance her body in a unique and beautiful way. Also note how she uses bell sleeves in her floral dress to enhance her waist.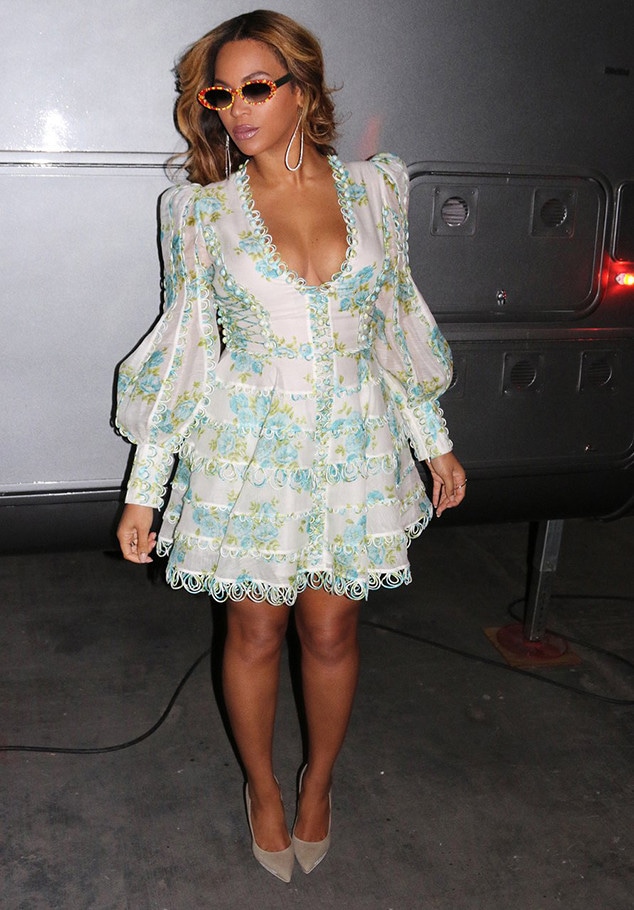 Rihanna adds length to her body by accentuating her arms using sleeveless or strapless dresses. She adds accessories to her neck or ears to further elongate her top half.